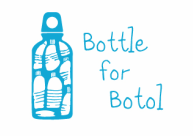 Scope Training is working closely with a local non-for profit in an aim to increase awareness on the impacts of pollution stemming from plastics as well as provide efforts for its reduction.
Scope is helping in a number of ways including providing a reusable water bottle to each student who attends a workshop.  This not only promotes the charity by increasing awareness, but also reduces the need for students to buy water bottles during their studies.
Scope is also working with the Founder of Bottle for Bottol in finalising a grant based program aimed to assist with the funding and project management of sustainable projects.